There was a time when Google was the only platform to promote businesses. 
But today we are living in the age of social networking, where users spend most of there time while watching memes, their friend's activities, videos and other things on the various social networking sites.
So as a business you have a great opportunity to attract leads and traffic from social networking sites like Facebook, Instagram, and LinkedIn. 
In few years, Instagram becomes one of the most popular social networking platform to share snaps and short videos with your followers.
So as a marketer we cannot miss the chance to promote our business on Instagram. 
If you are a big company and have a team big team to work then there is no issue, anything can be managed.
The problem comes when you individually promote your business, or have a small team. So you do not have sufficient time to post on Instagram, Facebook or others on regular basis.
So below we are sharing some of the few best social media marketing tools which will help you to automate Instagram and Facebook posts.
Means you can easily schedule the post for the whole day at once.
Benefits of Instagram scheduling tools. 
These tools are very easy to use and manage, with basic knowledge you can schedule your posts.
It is not easy to maintain the social page, if you doing it individually. But If use scheduling tool, then you can automate all of your post for whole day at once and will not take more than few minutes.
Most of the scheduling tools are free, you don't need to invest your money. 
With automation tools for Instagram you can work on your strategy like a pro with minimum time and maximum results.
You Must Have A Business Instagram Account
To use any of the automation tool you must have a business Instagram account. 
In case if you are using a personal account then please change it to a business account or create a new one. 
If you do not know whether you are using a business for a personal account. 
Just go to the setting 

Account 

Check you are using a business or personal account 
Connect the Facebook page to your Instagram business page. 
Now you need to connect your Instagram business page to your Facebook page, with all similar information. 
Things You Must Know While Using Scheduling Social Media Tools 
When you will post to your Instagram page on the behalf of third party tool. It will not contain all of the Instagram posting features,
Like, 
You cannot tag others 

Most of the scheduling tools do not let you upload videos 

Will not be allowed to add location
And some others
---
Best Social Media Post Scheduling Tools
Sendible it is a paid tool to planning and scheduling post on various social networks. Also, help you to get a deep analytics report to improve the future campaigns.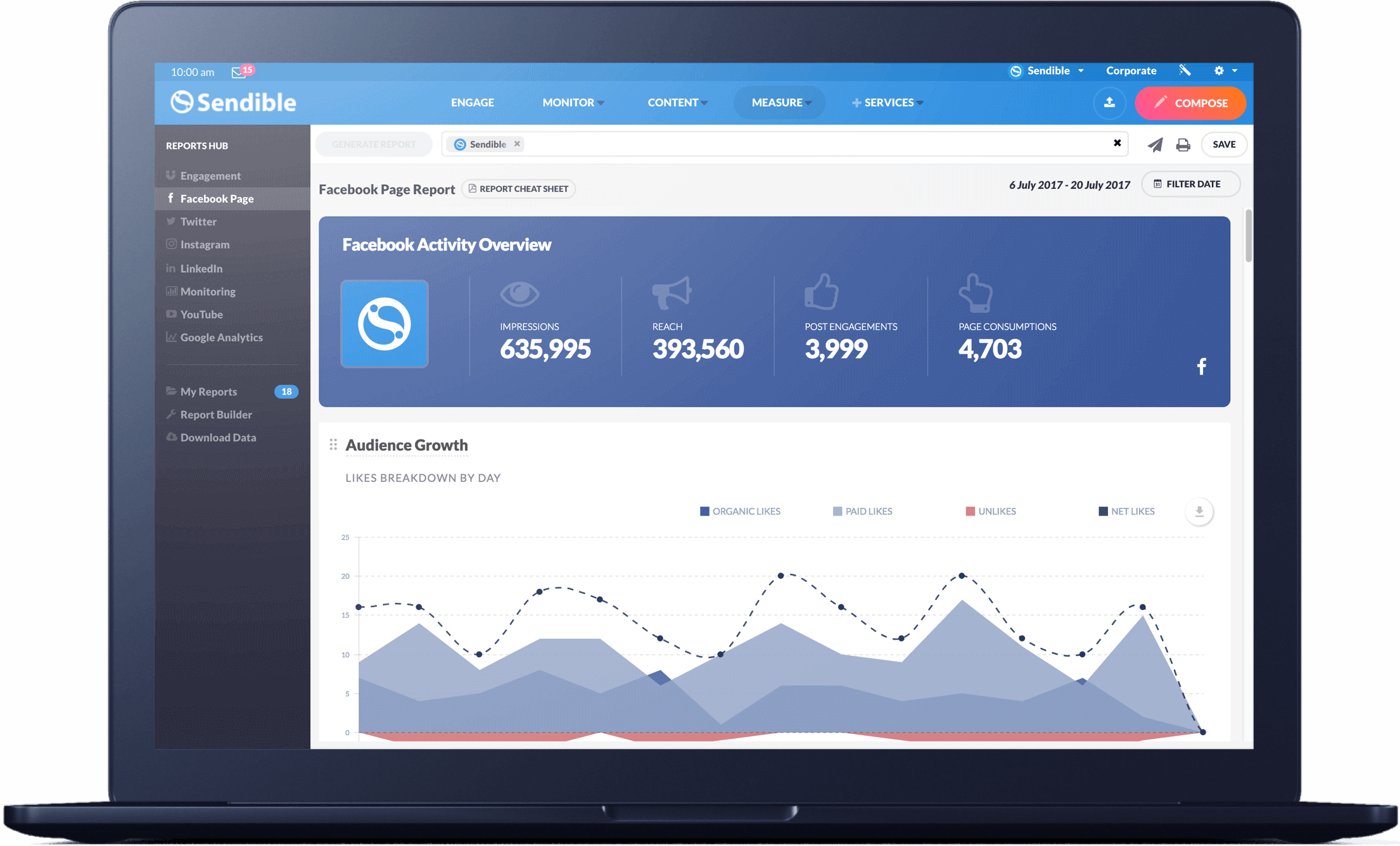 Features 
See the preview of all of the scheduling posts 

Easily content planning and scheduling post

Decent and professional look 

Advanced reporting 

Deeper insight 

Google analytics integration 

Support mostly all of the important social networks 
Supported platforms 
Facebook 

Twitter 

Instagram 

Facebook ads 

LinkedIn 

Google my business 

YouTube 

Pinterest 

WordPress 

Medium 

Blogspot & 

Much else
---
Later is one of the most famous marketing tool for Instagram. Which let you plan, schedule, analyze post on popular social networking platform like Facebook, Twitter, Instagram and Pinterest. 
Later is not a complete paid tool like Sendible, you can start at Later for free as an individual with some limitations.
For the full access to the Later, user have to buy their premium membership plan according to their needs. 
Later pricing starts from $9 to 49$ per month. 
With later you can schedule a post for your Instagram account for whole week under 30 minutes. Creating and submitting post to Instagram took much of your time and as a result you spend less time on promotion. If you schedule your post at once you have sufficient time to promote your page and post.
Features 
Intuitive and easy to use a content calendar 

Drag and drop feature 

See the preview of posts before scheduling 

Can use for free 

You can upload photos and videos from your local or online storage 

Easily find content from Instagram with the help of hashtags 

A deep analytic report  to find the best post type, the best time to post and other stats 
---
Zoho Social let you manage your social business profile on the different social network from a single place.
In the beginning, Zoho social was free for an individual with some limitations, but now they stopped the free plan. 
Now it is a complete paid social media tool.
The pricing of the standard Zoho social plan starts from 900 INR per month.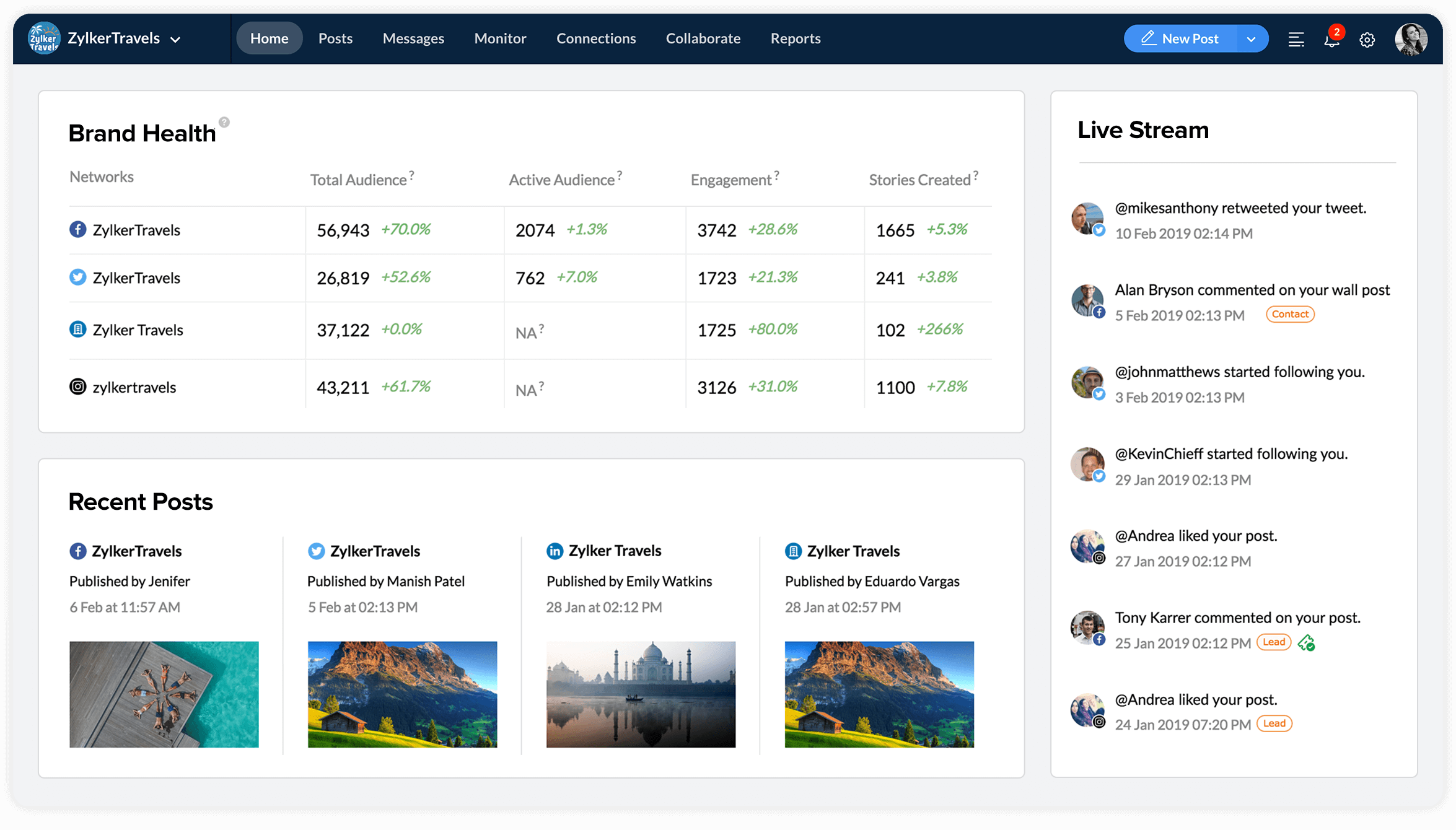 What You Can Do With Zoho Social 
Add and manage social media platforms 

Schedule posts 

Monitor keywords 

Easily collaboration with the team members 
Supported Platform 
Facebook 

LinkedIn 

Twitter 

Instagram 

Google my business
---
Buffer helps you to build and grow audience for your business on various social networking platform. 
Publishing content daily on all of you important social platform took time. But with Buffer you can easily plan, collaborate, and publish relevant content an all of your social platforms from a single dashboard. 
Buffer standard plan starts from 15$ where you can add 8 social media accounts, can schedule 100 post, and one user limit. 
To get more feature you have to subscribe to their advance plans.
What We Can Do At Buffer 
Publish a post to all your social platform from a single dashboard 

Easily draft and schedule a post 

Collaborate with your team 

Content calendar to easily manage scheduling campaigns 

Easy to add and manage social profiles
---
Hootsuite let you manage all your brand social media profiles from open platform. 
Easily schedule hundreds of posts at once on your various social platforms. It is a really big time saving hack, where you do not need to put much of your effort into just posting on your important social networks.
With deep Analytics users can evaluate their performance, that which kind of post really peoples are liking.
With performance analytics, you can easily access to best time of post scheduling, and best type of post. So you can only focus on things that are performing best for your customer or user. 
Hootsuite also let you find Post with the help of relevant keywords and hashtags. So you can find what actually trending in your niche, aur what kind of post users are really liking in your business.
Hootsuite is a not complete paid tool, they also provide free access to the tool.
Its standard plan starts from the 1915 iNR per month.